Roy Gonzalez is a celebrated surf artist whose work captures the essence of the surfing lifestyle. Born and raised in San Clemente, California, Gonzalez draws inspiration from the local surf culture and natural beauty of his hometown. His artwork has gained recognition and has been featured in galleries, magazines, and surf shops across the world.
Artistic Beginnings
Gonzalez began his artistic journey as a young boy, sketching waves and surfers in his notebook during class. He honed his skills as a self-taught artist, using acrylics, watercolors, and ink to bring his visions to life. His unique style, characterized by bold colors, sharp lines, and intricate details, captures the vibrancy and energy of the surfing world.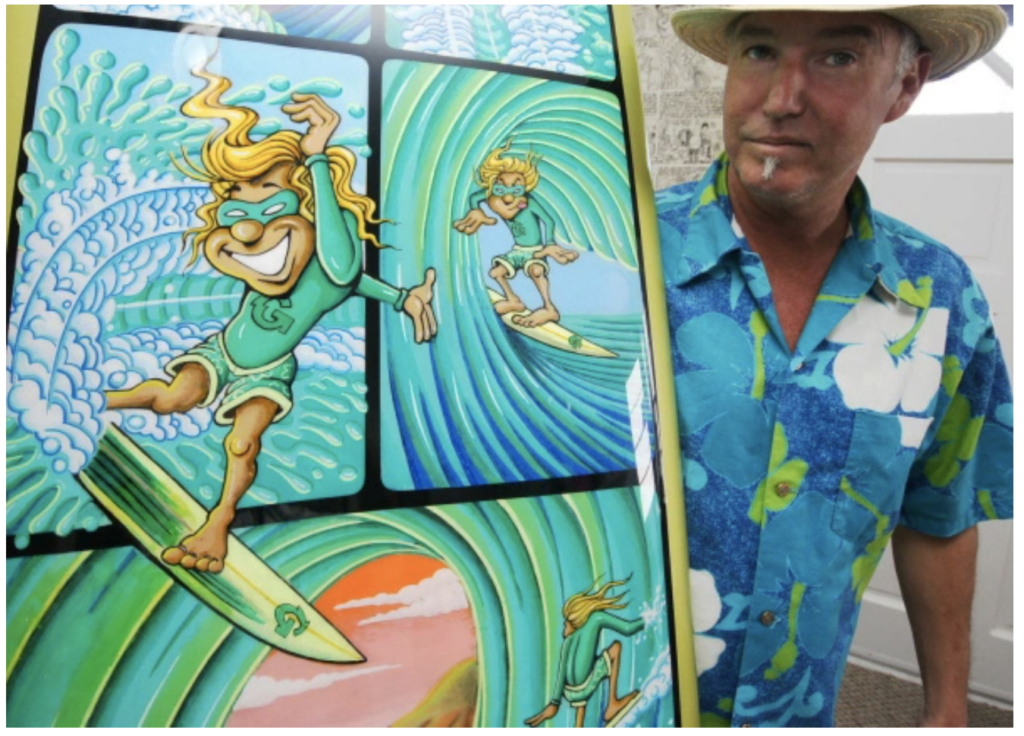 Notable Art
Roy has created many iconic pieces over the years. One of Gonzalez's most notable works is his mural at the iconic T-Street surf spot in San Clemente. The mural, which depicts surfers riding waves with dolphins, has become a beloved landmark among the local surfing community. It is a testament to Gonzalez's dedication to capturing the spirit of his hometown and sharing it with others.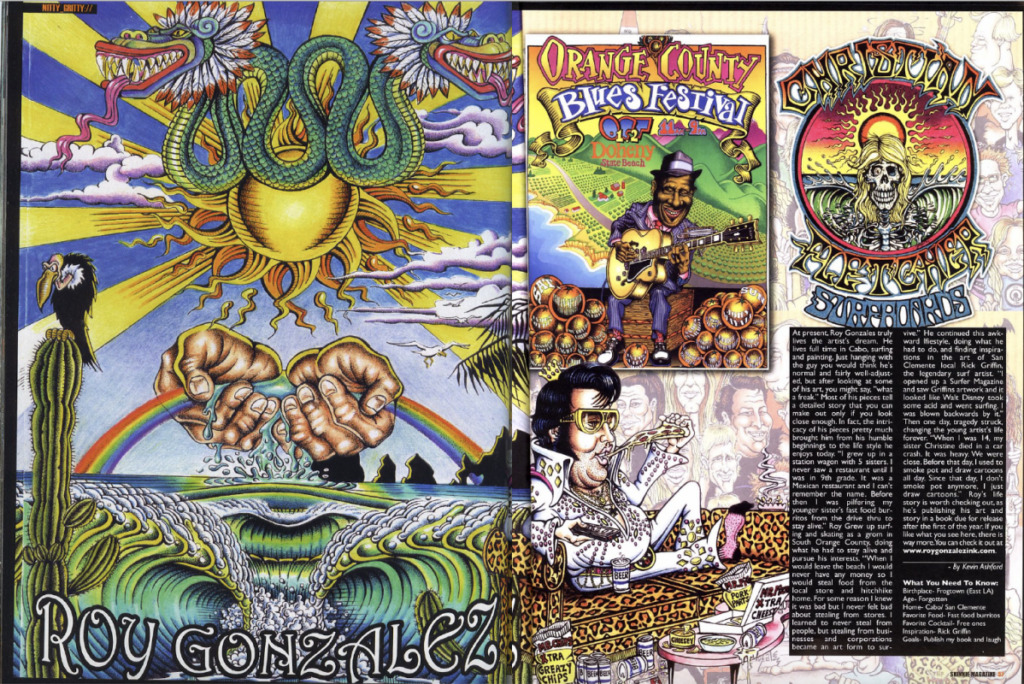 Gonzalez's art has also been featured in various surf magazines, including Surfer Magazine, Water and TransWorld Surf. His work has been commissioned by major surf brands such as Billabong and Quiksilver, and he has collaborated with renowned surf photographer Aaron Chang to create stunning surf-themed pieces.
Surf Crazed Comics
In the early 1980s, Gonzalez was approached by a group of friends who were starting a new comic book company called Beach Comics. They wanted him to create a series of comics about surfing and beach culture, and Gonzalez jumped at the chance.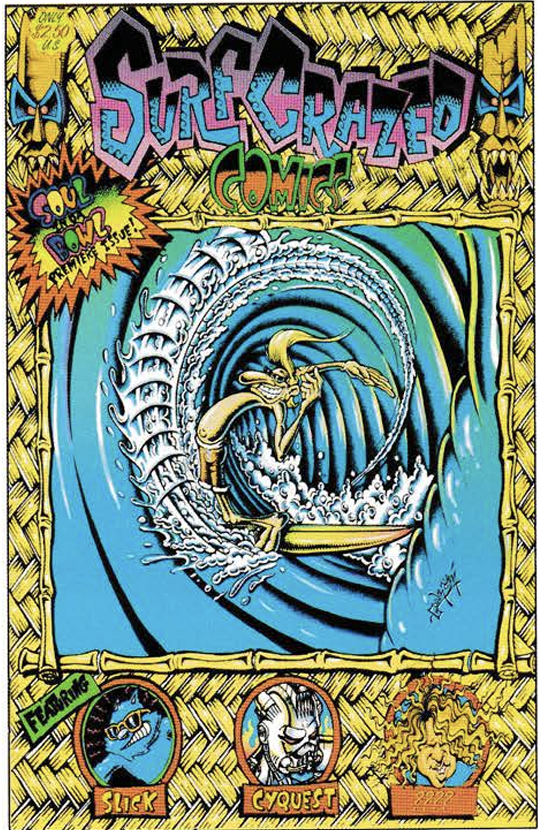 The result was "Surf Crazed Comics," a series that featured a cast of colorful characters, including surfers, beach bums, and rockers. The stories were fast-paced and action-packed, with plenty of surfing, fighting, and romance to keep readers entertained.
One of the most popular characters in the series was a surfer named Spicoli, who was based on the character played by Sean Penn in the movie "Fast Times at Ridgemont High." Spicoli was a laid-back, pot-smoking surfer who was always looking for the next big wave. He quickly became a fan favorite, and was featured in several issues of the series.
Another popular character was a female surfer named Gidget, who was based on the character played by Sandra Dee in the 1959 movie of the same name. Gidget was a spunky and adventurous surfer who was always up for a challenge, and she quickly became a role model for young female readers.
In addition to the main series, Gonzalez also created several spin-off titles, including "Surf's Up," "Beach Bums," and "Rock 'n' Roll High School." These titles explored different aspects of beach culture, and featured a wide range of characters and stories.
Surfer for Life
In addition to his art, Gonzalez is also a passionate surfer himself. He has been surfing since he was a teenager and continues to be an active member of the San Clemente surfing community. He is a regular at local surf spots and is often seen catching waves with his friends and family.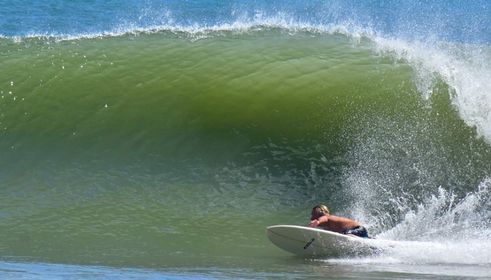 Gonzalez's art and surfing have become intertwined, each influencing the other in a symbiotic relationship. His love for the ocean and the surfing lifestyle shines through in his artwork, and his artwork, in turn, inspires others to embrace the surfing way of life.
Featured In
Surfers Journal | Water Magazine | Cartwheel Art | Fuel TV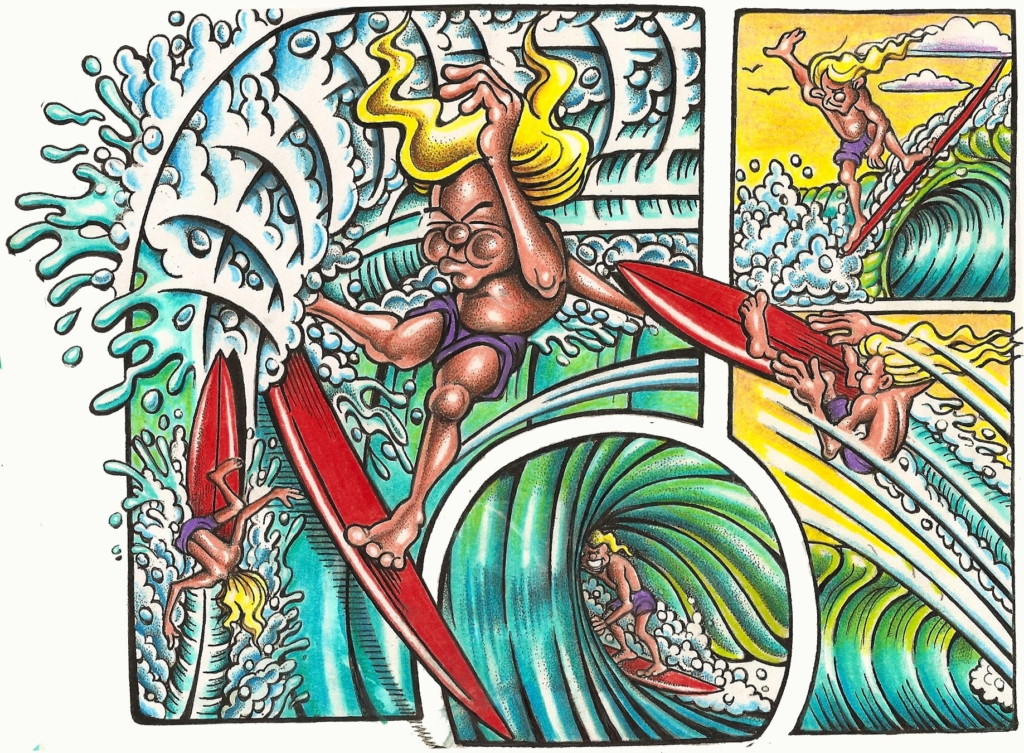 Roy Gonzalez's art captures the beauty and energy of the surfing world. His dedication to his craft and his love for his hometown have made him a beloved figure in the San Clemente surfing community and beyond. Through his artwork, he has helped to preserve and celebrate the unique culture and spirit of surfing.